Well, another year has passed, and the Octopus Motor is still cooking. Who would have thought?
It's been a crazy year. I learned how to add pictures (oddly enough, I figured out how to add videos before I learned how to add pictures). I went through that whole Jandek phase (and I am still planning on continuing the 10-part Jandek review series, FYI). There were fruitful times (December and January were pretty good), and less fruitful times (last summer was pretty slow). I added that fancy new banner. But seriously, who cares? It's the Octopus Motor's 2nd anniversary, so that means another mix!
No videos this time around, we'll just stick with the embedded playlist this year. Enjoy the Octopus Motor's Cotton Anniversary Mix!
LT Tour Theme – Le Tigre (Feminist Sweepstakes, 2001)
Born out of the classic riot grrrl band Bikini Kill, Kathleen Hanna's Le Tigre continue Bikini Kill's feminist infused rock. Decidedly more fun and dance oriented than its more incendiary punk predecessor, Le Tigre manages to preach feminism without being preachy. Silly and fun, but definitely never stupid, Le Tigre's music is always smart and always enjoyable. "LT Tour Theme" is the first song off their second album, Feminist Sweepstakes, and seemed like the perfect way to kick off the Cotton Anniversary Mix.
Take the Skinheads Bowling – Camper Van Beethoven (Telephone Free Landslide Victory, 1985)
I'm relatively new to Camper Van Beethoven, but from what I've heard, I really like it. This song is an amazing combination of punk and a sunny Sunday afternoon spent on the back porch with friends. And beers. Beers and friends. And hopefully no Skinheads. Cuz that'd be awkward.
I Against I – Bad Brains (I Against I, 1986)
This song is well over 20 years old, but just like the album is comes from, still sounds exciting and fresh. Throwing a variety of styles and influences into one big boiling hardcore pot, Bad Brains' music clips along at a pace that sounds like it's constantly on the verge of flying off the rails. It's no wonder Bad Brains are as revered as they are, their music has proven to be both influential and totally singular. No one can match their reggae and dub inflected hardcore punk.
Dr. Rock – Ween (The Pod, 1991)
Ween has to be one of my all time favorite bands (and concerts). There are few bands that are as talented, strange, unpredictable, and just plain awesome as Ween. "Dr. Rock" is off their second album, The Pod, which is the album that the duo famously claimed they wrote and recorded while under the influence of a severe Scotchgard huffing habit and a vicious case of mononucleosis. While I'm pretty sure the Scotchgard comment was a joke (though, I think the mononucleosis thing is real), The Pod is hands down the strangest and densest thing these guys have ever done. It may be uninviting at first, but I recommend spending a little time in Ween's Scotchgard fueled world. You won't regret it.
Chumbawa – The Detroit Cobras (Mink Rabbit or Rat, 1998)
One of the things I definitely regret never doing before leaving Michigan for Texas is seeing the Detroit Cobras in concert. All of their songs are garage rock covers of old obscure R&B singles, giving you music that is skuzzy, danceable, sexy, and fun. I have no doubt that they would put on an awesome show, and that I really missed out by not seeing them before I moved. Of course, they do in fact go on tour, so I guess I've still got a shot.
Little Babies – Sleater-Kinney (Dig Me Out, 1997)
Appropriately or not, Sleater-Kinney gets lumped in with the whole riot grrrl scene. While I have nothing against riot grrrl bands (I actually like quite a few of them), in the case of Sleater-Kinney, I can't help but feel like it's not entirely accurate. They not only can play the incendiary punk that characterized the scene, but they can bust out metal, hard rock, pop, and just about any other kind of music you can make with two guitars, a bass, and a drum set. It's a real shame they split a couple years back. They were definitely one of the best female rock bands out there.
Sealed with a Kiss – Deerhoof (Apple O', 2003)
For a while, about the time Apple O' was released, it seemed like Deerhoof were on top of the indie world. They basically play a vaguely experimental kind of fractured pop music, a sort of abrasive twee pop, complete with sickly sweet sounding tiny Asian girl vocalist. Ultimately, Deerhoof is pretty hit or miss for me, sometimes their weirdo twee noise pop falls completely flat for me, leaving me annoyed and irritated. But then again, sometimes they hit on that perfect balance of noise, sweetness, and pop sensibility. And that's exactly the kind of song "Sealed with a Kiss" is: perfectly, enjoyably sweet.
Sing Swan Song – CAN (Ege Bamyasi, 1972)
A lot of the songs on CAN's Ege Bamyasi slide by in a sort of smooth, lazy, mid-tempo breeze. It's extremely easy to sit back and let their jazz-influenced prog rock (or "Krautorck" if you're feeling fancy) glide by in the background, missing most of what is going on in a given song. CAN's music is almost deceptively complicated; one semi-attentive listen will reveal how much is actually going on in their music. In that way, Ege Bamyasi is almost like two albums. One you can play in the background or one that can grab your full attention. However you listen to it, CAN's Ege Bamyasi is an incredible album.

Space – The Beta Band (Heroes to Zeros, 2004)
The Beta Band are almost like a pop version of CAN, crafting music that sounds both complicated and easy. Blending acoustic sounds, electronic flourishes, and indie rock guitars into rollicking yet smooth pop music, the Beta Band manage to walk the line between being an extremely interesting and extremely easy listening experience. All of their music is worth listening to, and much like Sleater-Kinney, it's a real shame they split after releasing Heroes to Zeros (oddly, the only album the band ever expressed satisfaction with).
Snakedriver – The Jesus and Mary Chain (The Speed of Sound, 1993)
This song is pretty emblematic of the Jesus and Mary Chain's music. Distorted guitars. Detached and droning vocals. Slinky, aloof, retro cool. All wrapped around a song of bittersweet resignation. These guys are fucking cool. Cool as hell.
Black Rider #1 – Frank Black & the Catholics (Black Letter Days, 2002)
While I've never liked Frank Black's post-Pixies solo stuff too much, this song just kills. The mix of 50s and 60s rock'n'roll, honky tonk piano, and oddly inviting violent lyrics ("Come on in/it ain't no sin/take off your skin/and dance around in your bones") makes for an undeniably catchy song. I really have to be in the right mood to listen to Frank Black's other stuff, but I can always listen to this song. And I always have a gay old time.

4/10/05 - Sunday – Fantômas (Suspended Animation, 2005)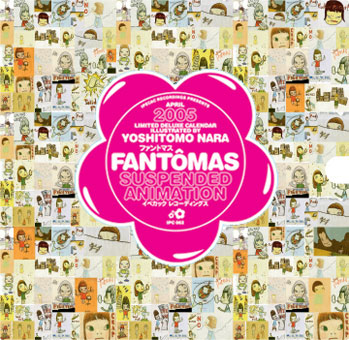 When I included Faith No More's "Surprise, You're Dead!" in last year's mix, I asked, "Is there anything that this guy [Mike Patton] hasn't done or can't do?" Fantômas is just one of many post-Faith No More projects Patton has going, and they all are infused with his unbridled experimentalism and just plain weirdness. I'm always willing to check something out as soon as I know he's involved. Certainly not for everyone, he's definitely someone I try to keep an eye on (easier said than done, though, with his seemingly hundreds of side and solo projects).
L Dopa – Big Black (Songs About Fucking, 1987)
I'd be hard pressed to think of someone who works harder at being as offensive, ugly, uninviting, and unpleasant as Steve Albini (his band after Big Black was called "Rapeman" after all). But the man does it so well! The sonic assault of Big Black, mixed with Albini's drier than dust, biting humor creates truly ugly and brutalizing music. Just about everything about Albini and his music is uncompromising, and it is all the better for it.
Politicians In My Eyes – Death (For the Whole World to See, 2009)
Even though their music was only finally released this year, Death actually came out of Detroit in the early 1970s. Unfortunately, the difficulties of promoting a trio of black brothers playing experimental, R&B influenced, hard rock, proto-punk in the early 70s proved too much. After recording an album and signing to Columbia, the Hackney brothers clashed with their label over the band name, eventually abandoning the project and moving to New England. An obvious precursor to punk bands like Bad Brains, their demo tapes have finally been released as For the Whole World to See. Read more in this excellent NYTimes article about them.
Crackity Jones –Pixies (Doolittle, 1989)
Short, fast, and more than a little spastic, "Crackity Jones" is a tiny burst of perfect weirdo college rock. Apparently, the song is about a crazy roommate Black Francis had while living in Puerto Rico. But listening to Francis convulsively yelp and howl his way through a very fast, and very brilliant, minute and a half, one wonders how he could have possibly been the "normal" roommate. Just how crazy was Jose Jones' story?
Everything is Fair – A Tribe Called Quest (The Low End Theory, 1991)
I'm not sure what I could say about Tribe. They are amazing. There is no bad time to listen to Tribe. They're like the little black dress of hip hop, they're good for any occasion.
Stereo – Pavement (Brighten the Corners, 1997)
I've always viewed Pavement as the quintessential 90s slacker band. I'm not sure if that view is entirely accurate, but it's hard to not see the slacker brilliance in a song like "Stereo." With its jangly guitars, meandering lyrics, and all around playfulness, "Stereo" sounds almost effortlessly clever, amusing, and downright silly. Which is exactly what I think of when I think of 90s slackers.
The Lung – Dinosaur Jr. (You're Living All Over Me, 1987)
The best way I know how to describe Dinosaur Jr.'s music is by saying it has a sort of lazy urgency. A laidback propulsiveness, if you will. I remember seeing Dinosaur Jr. on their reunion tour years ago. They did a few small shows to start the tour, and I was lucky enough to catch them at Ann Arbor's Blind Pig. They were loud, fast, and raucous. But they also seemed like they just woke up and didn't really know what was going on. The concert started late because the drummer, Murph, was downstairs at the 8Ball drinking and lost track of time. Bassist Lou Barlow broke a string, but apparently didn't have any back up basses, so he just sang the bass lines while a roadie replaced the strings. Lead singer and guitarist J Mascis looked like an older version of Garth Algar (seriously, compare this to this), and like he was on the verge of falling asleep while onstage. All this might suggest the show was bad, but it wasn't. It was easily one of the best shows I've ever seen. Loud, fast, totally kickass, and half asleep, that's just how these guys roll.

If I'm a Man – Burning Brides (Fall of Plastic Empire, 2001)
Undeniably a stupid song, there isn't much to say about "If I'm a Man." Everything by Burning Brides has the same balls out rock'n'roll aesthetic. It's noisy, kind of sloppy, definitely stupid, and completely fun. Oh, and they went to Juilliard. Go figure...
Chuggin' – Z-Rock Hawaii (Z-Rock Hawaii, 1996)
Z-Rock Hawaii is a one-off collaboration between Ween and Japanese noise-freaksters the Boredoms. And it is as weird, goofy, and amazing as that collaboration sounds. "Chuggin'" is easily one of the most straightforward and normal songs on the album. "Tuchus," for example, consists of undulating sounds, Japanese chanting, and one of the Ween bros repeating lines like "Tuchus/You got a nice tuchus" for a few minutes. This album is one of the weirdest and best things I've ever heard.
Beat me Daddy, Eight to the Bar – Commander Cody and His Lost Planet Airmen (Lost in the Ozone, 1971)
Oddly enough, this hard rocking, honky tonking, bar band hailed from Ann Arbor, MI. When you've got a band from a place like Ann Arbor playing music like Texas honky tonk, it usually doesn't end very well. They can come across as glib, like they're making fun of the music. Or they can seem painfully inauthentic (sort of like when a bunch of white people form a funk band). But Commander Cody and His Lost Planet Airmen have an obvious love for the music they play, and they definitely have the musical chops to back it up. Lost in the Ozone is an album I sort of discovered by accident, but I'm glad I did. It's nonstop foot stomping brilliance.

Our Paths Will Cross Again – William Elliott Whitmore (Hymns for the Hopeless, 2003)
William Elliott Whitmore's music is characterized by sparse instrumentation (generally just an acoustic guitar or banjo and maybe some percussion), old Southern blues-esque lyrics (e.g. death, sin, regret), and most importantly that gravelly voice that sounds so old beyond its years. Whitmore's music seems both of an older time and yet timeless. "Our Paths Will Cross Again" is probably most hopeful song I've heard by Whitmore, and as great of a song as it is, his music has so much more to offer ("Digging my Grave" off of Ashes to Dust is probably my favorite). But I couldn't leave on too dour of a note...